Webinar Q&A: Solutions to your Check Valve Problems
Check Valve Installation & Piping Design Guidelines
As a follow up from our webinar "Solutions to your check valve problems", we are sharing, in this post, a few of the questions received from the audience. A variety of questions came in which are answered here by our host Arie Bregman, vice president and general manager of DFT® Inc and a 35-year industry veteran, who is an active member in the U.S. Valve Manufacturers Association (VMA), serving on the group's education, training, and technical committees.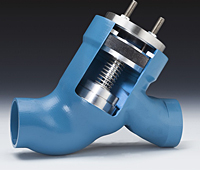 During the webinar Arie discussed the different factors that go into a well-functioning piping system and ways to prevent water hammer and related issues before they become serious, time-consuming problems. Many times valve problems are not a function of the valve at all, but problems with the piping system design, valve location, poor installation practices or selecting the wrong valve for the application. In the webinar you will hear about check valves within piping design, best practices of installation, choosing the right check valve for the application and even a section on gasket installation best practice.
If you missed this webinar, you can now view it on demand from the DFT website, just click this link.
Below, our talented host answers some common questions regarding check valve applications to help you find the right type and fit.
Q: Can you explain leakage rates for various types of check valves?
A: All of our check valves must meet one of the two most common standards for valves: MSS SP61 and API 598. To test leakage rates, we usually perform the test with either air or water, although water tends to be the more difficult medium. If you're using your valve in an application that involves gas, you might want to choose the MSS SP61 standard and use gas testing.
Q: Can I use check valves with 50% caustic soda solution? If so, what the minimum temperature?
A: It may be a challenge to use any check valve with such a solution because the caustic soda will likely cause the parts to gradually bind. If you need to use a caustic soda solution, however, we recommend using a special coating such as Xylan on any internal parts that will need to be able to move relative to one another.
Q: How closely does a full bore gate valve approximate a straight pipe? Can this count towards the straight pipe run recommendation?
A: Although a full bore gate valve will have a fairly high flow coefficient, it will still cause flow turbulence. Therefore, you should still place it after the check valve if you plan to use it in place of a straight pipe.
Q: What is the effect on pressure drop for an axial flow check valve?
A: A pressure drop will result in higher flow resistance in an axial flow check valve than it would in a swing style check valve because of the internal pressure within the flow stream. Greater flow resistance, however, isn't necessarily a problem, particularly if the volumetric flow rate through the collective piping system is also high. You simply need to ensure that the differential pressure created by the axial flow valve enables the valve to completely open at normal flow conditions.
Q: Can you provide a ranking of check valve types from the smallest to the largest pressure drop in the fully open position?
A: Unfortunately, this type of ranking isn't possible because of the number of variables among the valves. Generally, the highest coefficient by line size would be with a swing style valve, followed by tilting disc, double door (dual plate), and then axial flow valves.
Q: How does cracking pressure relate to pressure drop across the valve?
A : The cracking pressure will be the absolute minimum pressure loss that the valve will experience when in operation. If you need a more precise estimate of the amount of pressure that will be lost, you must do valve-sizing calculations for your specific application.
For more than 70 years, DFT® Inc. has helped customers find and install the right check valves for their unique applications. From world-renowned DFT® Silent Check Valves to the innovative DFT HI-100® Control Valves, we have the products you need and a team of valve experts with decades experience in a range of industries, including power generation, petroleum, construction, chemical processing, steam, water treatment and many more
To learn more about our valves, and how we can assist you, download our eBook, "Check Valve Installation Rules & Guidelines" Or contact us directly.