Pharmaceutical
Sanitary manufacturing applications that use fluid systems, such as the pharmaceutical industry, use check valves to regulate fluid flow and pressure. This is crucial for maintaining high product and production quality. DSV® sanitary check valves ensure overall effectiveness and system efficiency by serving as an ideal solution for common issues such as backflow, water hammer, and cleanliness.
Pharmaceutical Check Valve Considerations
There are many features and design considerations that must be taken into account when choosing a pharmaceutical check valve. To ensure you're choosing the right valve type for your intended application, consider the following features: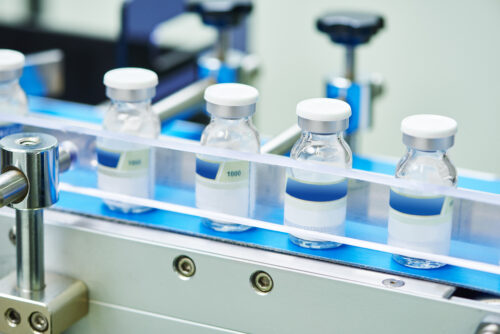 Meeting Sanitary 3A Standard 58-02.
Clean-in-Place Design. This design allows for easy cleaning without disassembly of the system. Some design elements include crevice-free construction to reduce material entrapment, high temperature O-rings, a polished surface to reduce the risk of buildup, and stainless-steel construction to prevent corrosion.
Non-Slam Spring Assisted Silent Closing. This closing mechanism prevents the possibility of flow reversal and eliminates water hammer. The spring ensures that only fluid with the proper minimum pressure can pass through the valve.
Tight Shut-Off. Lapping the seat and disc ensures tight shut off, which lowers the risk of backflow.
---
You May Also Like:


---
DFT® Check Valve Products for Pharmaceutical Applications
At DFT®, we provide two main types of pharmaceutical check valves: horizontal valves and vertical valves.
Horizontal Valves
These valves are designed for horizontal piping lines that require a self-draining valve. The forward moving pressurized fluid pushes against the disc and separates it from the valve seat to allow fluid to pass through the gap. One forward flowing pressure is removed, and back flowing pressure is introduced, the disc returns to a closed position stopping fluid flow.
Vertical Valves
Vertical valves are suitable for two main types of locations: vertical pipes and horizontal pipes that don't need self-draining capabilities. Each vertical valve has a gasket body seal and a quick-release clamp that operators and maintenance staff can use to easily access the valve components for repairs and other maintenance.
Along with our selection of standard horizontal and vertical pharmaceutical check valves, DFT® provides the following valves suitable for steam and utility systems:
Contact DFT® for Your Pharmaceutical and Medical Grade Check Valves Today
Sanitary check valves are able to keep pharmaceutical fluid systems safe from the risk of contamination, buildup, and noncompliance of quality standards. At DFT®, we are 3A certified and have over 75 years designing and producing high quality check valves that offer safety features and design principles that pharmaceutical check valves need. Contact us to learn more about our products or request a quote today.
Additional Resources: