Food & Beverage
For more than 75 years, DFT® has been manufacturing check valves for a wide range of applications, including sanitary applications, within the food and beverage industry. Due to the stringent regulatory compliance required for food processing, every component within the process must be carefully evaluated to ensure it is safe to use in the production of items for human consumption. The safest valves have contaminant-resistant properties that meet or exceed 3A standards designed to guide manufacturers in hygienic production of food-safe components that conform to the USDA, FDA, and state regulations. One of DFT®'s product lines is the DSV® Sanitary Check Valve that meets 3A Sanitary Standard 58-02.
Industry Challenges
In the U.S., what is purchased for consumption is highly regulated for safety. Food, beverages, pharmaceuticals, and the ingredients must be safe for consumption, and every part of the production process that has any chance of coming in contact with the food must also be FDA compliant.
Finding the proper valve for each application of an already complex industry can be challenging. Elements that could be exposed to the food or drink, the temperature and humidity that must be maintained, the pressure used, the viscosity of the product, and materials that could cause corrosion are all key factors in choosing the correct valve for your particular application. Picking a supplier who can guide your choices for safe, reliable, and hygienic components can save you time and money by streamlining production processes and avoiding ruined batches.
Applications

Valve Applications in the Food & Beverage Industry

An overriding concern for food and beverage processing is contamination. Sanitary check valves help to prevent undesirable elements, such as pathogens, from entering the product. Other common applications in these industries are boiler feed and discharge, cookers, refrigeration and steam lines that rely on check valves to prevent backflow and water hammer. Another example: Vacuum breaker threaded check valves can help protect against collapsing pressure valve by preventing condensate backup when inlet steam is reduced.

Products

DFT®'s Products for Food & Beverage Applications

DFT® has a full range of axial flow non-slam check valves that are reliable, have a long service life and can be installed in any orientation. Additionally, our DSV® product line of sanitary check valves are used in a diverse array of industrial applications, such as food and beverage processing, pharmaceutical manufacturing, and chemical processing. They prevent reverse flow in evaporators, condensate lines, and gas purges. No matter the application, you can be sure that your sanitary valves meet the most stringent regulations for your industry.

The DFT® DSV® in-line spring-assisted check valves—made to prevent product back flow between systems—are certified 3A sanitary standard 58-02. Designed for industries that must comply with the most stringent sanitary codes, our sanitary beverage valves feature quick release, reliable shut off easy maintenance, and a long service life.

DFT® manufactures the following valve products for the food and beverage industry:

Safe, Sanitary, and Reliable Valves for the Food & Beverage Industry
For more than 75 years, DFT® has been supplying valves for a range of industries and applications. Our reputation has been built on delivering the highest quality check valves with an understanding of the unique guidance, regulations, and standards for the food industry and other industries that require uncompromising compliance and safety. Our strictly controlled manufacturing environment ensures the precision, quality, and safety of the components that you rely on for your business.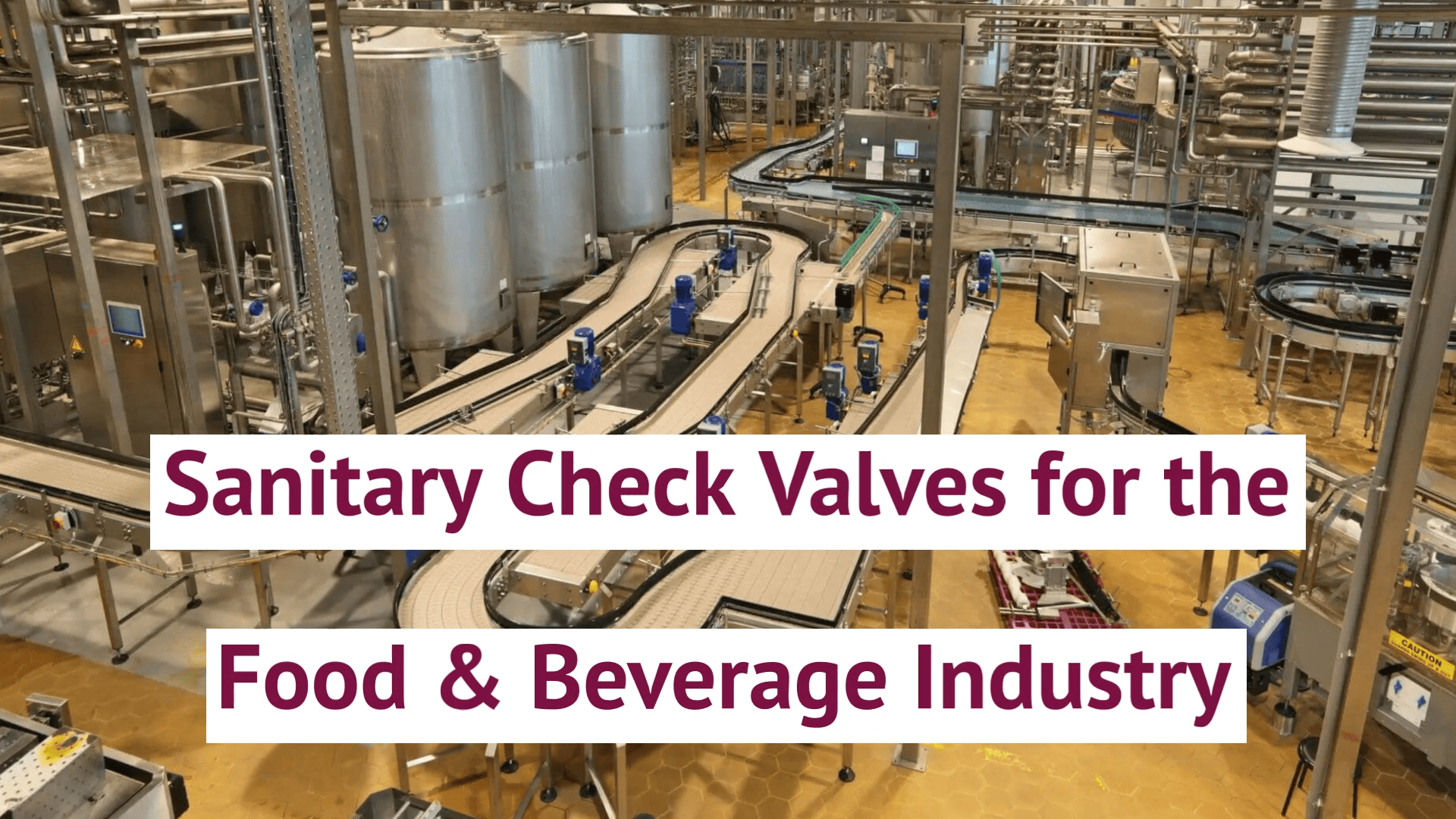 Contact DFT® today for more information on our products, or submit a request for quote via our online form. For more on sanitary check valves, download our eBook or read our case study.