Introducing Our New Doosan Puma VTS1620M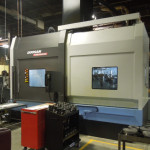 Most manufacturers and businesses know how exciting it is to purchase a brand new machine (especially if it's a Doosan!) Here at DFT, we are lucky enough to now have two of these impressive pieces of equipment. Our newest member of the family, a Doosan Puma VTS1620M, will enable us to machine and manufacture valves even better than before. This specific machine is a large vertical turning center with a RAM head spindle that will now provide us with high precision and high machining accuracy for the long-term. Our new Doosan will enable us to machine bigger and more precise valve orders. It's highly productive and will increase our efficiency, which will shorten the turnaround time on your new valve!
The capability to cut ultra large and ultra heavy duty product with a high reliability rate is a game-changer for DFT Valves. Many manufacturers will tell you that this particular machine is worth its weight in gold. Large diameter valves will now be a breeze for us to machine in-house, reducing our turnaround times. You've come to expect high quality from us, and the Doosan Puma VTS1620M is known around the world for the highest quality machining.
Want more info on how our new addition can improve your deliveries? Contact us at 610.363.8903 or info@dft-valves.com.