DFT Achieves ISO 9001:2015 Certification
In the industrial world, achieving quality certifications is a vital part of earning customer trust; not only does this illustrate our company's commitment to constant improvement, it also shows you and your customers that DFT products are of the highest quality possible.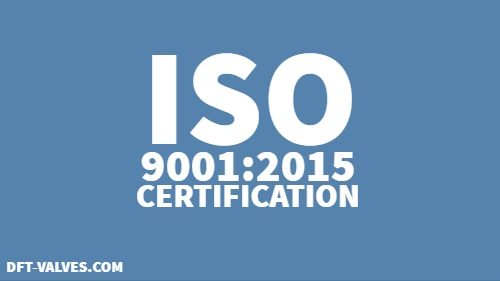 Certifications demonstrate that our products have met a stringent set of requirements as set forth by the specific certifying organization at hand.
These certifications serve to benefit you, as well, ensuring that all of our operations are consistent and reliable and yield products that are uniform and high-performing — thereby eliminating the need for unnecessary expenditures, labor, and downtime.
This kind of quality guarantee can be essential for building lasting customer relationships.
At DFT Inc., we've worked hard to earn high-level industry certifications, including our latest, ISO 9001:2015. This commitment serves to enhance our product and industry knowledge, and also allows us to implement the most cutting-edge procedures and production processes.
Understanding ISO 9001
Our ISO 9001:2015 certification, issued by the International Organization for Standardization (ISO), ensures that the design and manufacture of our valves and provisions of spare parts comply with the stringent quality-management system criteria outlined by ISO.
The entire family of ISO 9001 standards is centered on the fundamentals of successful quality management systems (QMS). A quality management system is a set of policies, procedures, and processes that guide an organization in manufacturing and delivering high-quality products to its customers.
These standards ensure that companies have solid quality management systems in place in order to meet the exact needs of their customers and other stakeholders, while also ensuring companies meet any necessary legislative and regulatory requirements.
ISO 9001:2015 — The New Standard
ISO 9001 has been successfully implemented by companies across a range of industries for 25 years. The newest standard, ISO 9001:2015, published in 2015, is an updated version of ISO 9001:2008.
Today's ISO 9001 has been modified to allow for easier integration with the standards of other international management systems and places an emphasis on risk-based thinking. Other updates include:
A greater focus on creating management systems tailored to each organization's specific needs
An emphasis on enhanced leadership commitment in order for higher-level managers to have more involvement and responsibility in incorporating quality controls into the wider business strategy
A focus on risk-based thinking in order to encourage continuous improvement and the use of quality management systems for proactive change
Improvements and Changes at DFT
With these changes in mind, we modified our Quality Management Systems at DFT Inc. to meet ISO 9001:2015's requirements, ensuring our quality management system was at its best.
SAI Global, a member of the International Accreditation with accreditation from the ANSI-ASQ National Accreditation Board, performed our successful audit, presenting us with an ISO 9001:2015 ­­­certification that is valid through October 29, 2020.
With this certificate, DFT Inc. further illustrates our dedication to quality and ultimate customer satisfaction. And through our commitment to continuous improvement of our quality management system, we have streamlined our production processes to eliminate waste — resulting in better products at lower costs for our clients while reducing our overall environmental footprint.
Learn More
DFT Inc. is proud to hold several other certifications in addition to ISO 9001:2015. To learn more or view other certificates and compliances, check out our full list of certificates here.
Check out our other recent blog posts below: