DFT's ALC and WLC Wafer Check Valves
Water hammer and reverse flow can be ongoing issues for large buildings and industrial piping. In the majority of cases, an unreliable double door or butterfly check valve was utilized and the results are these damaging issues. Double door or butterfly check valves often times incur failure of the door spring or hinge pin; leakage from misaligned doors and seats; reverse flow; and even internal parts flowing down stream.
The harming effects of water hammer include loud noise and rapid vibration to pipe collapse. Reverse flow can damage pumps and motors, a costly proposition to any company.
DFT has developed a valve to replace and solve these problems. The DFT ALC® is an in-line, spring assisted, center guided "wafer" check valve which was specifically designed and manufactured to control "water hammer" and "reverse" flow.
The ALC® is an easy to maintain check valve for applications that involve liquids, gases, or steam. DFT created a compact lightweight design that meets API 594 Face-to-Face dimensions. It is lightweight and fits between mating flanges. As well, tapped holes are provided in the body of the valve for lifting lugs that assist with installation. The DFT ALC® is manufactured in carbon and stainless steel.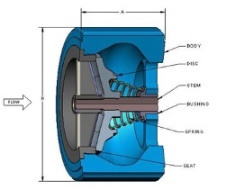 Another DFT Valve that minimizes the issues of water hammer and reverse flow is the DFT Model WLC® Wafer style Silent Check Valve. The WLC® is a lightweight, spring-assisted, in-line check valve that provides reliable, low maintenance service for a wide range of fluids and pressure/temperature combinations. It is dual-guided and manufactured in carbon steel, stainless steel and other exotic alloy materials.
For over sixty five years DFT has solved check valve problems, prevented check valve failures, and water hammer issues. DFT provides cost effective application engineering assistance, rapid prototyping and fast-turn initial production. Contact us today, we are available to review your valve sizing requirements and assist you in any questions you may have about our ALC® or WLC® valves.