Archive: Oct 2018
Leave a Comment
Most manufacturing operations take a substantial amount of power to operate, often making it difficult for industry stakeholders to effectively reduce their carbon footprint. However, with improvements in solar panel technology and power storage, it is now possible for industrial facilities to significantly reduce their impact on the environment. Solar also makes more financial sense for industrial applications, as most factories, warehouses, and other facilities have large, flat roofs that are ideal for these panels.
Solar power is considered one of the greenest renewable energy sources, surpassing other options like natural gas, because its energy produces zero emissions at every stage. It has also surpassed wind to become one of the most affordable end-to-end sources of renewable energy.
DFT® Goes Solar
At DFT® Valves, one of our core company values is a commitment to sustainable operation. In pursuit of this, we have completed the installation of roof panels on our facility that generate approximately 63% of our annual electricity requirements, or 304 kilowatts per minute while the sun is shining.
Since most of our electricity consumption occurs during the day while we are in full production, we can largely offset the power requirements of the production processes. At night, when our power requirements are minimal, we can still use power from the local grid.
We're also able to sell power back to PECO seven days a week, which provides significant savings that will help us break even on the project in the next few years. In addition, about 33% of the cost was covered through a grant from the state of Pennsylvania, and we expect to receive additional state and federal tax incentives as well. This means we won't have to pass on any related upfront or ongoing costs to customers. We'll also contribute to sustainable energy use in the community by assisting PECO in providing power to more than 100 homes in the surrounding area.
Your Sustainable Valve Provider
DFT® Valves provides check valves and control valves for use in a range of applications across a broad array of industries. It is our mission to provide solutions that help you avoid critical valve failures that will negatively impact your operation. The addition of solar panels to power operations shrinks both the company's and our customers' carbon footprints.
To learn more about DFT's check valves and control valves and how they can support your needs, please contact us or request a quote.
Leave a Comment
For any manufacturing business, safety is of the utmost concern. A company's workers are its most valuable asset, and toprotect that asset, it's critical to maintain a working environment that prioritizes health and safety. At DFT, employee health and safety is placed above all else. We are committed to maintaining a safe and hazard-free environment by complying with the Occupational Safety and Health Administration's (OSHA) workplace requirements to create a safe workplace for our employees.
We have OSHA-30 – certified supervisor and manager that work tirelessly to ensure that we are complying with all OSHA regulations throughout the company. Our diligent commitment to OSHA standards, combined with our
internal safety best practices, ensures that we meet or exceed the occupational health and safety standards set forth for our industry.
There are many ways in which DFT practices safety in the workplace. For example, DFT's seven-member safety committee encourages safety awareness among employees, incentivizes their participation in our safety program, and educates them about safety best practices. We also provide thorough training to our employees from certified forklift and overhead crane operators to ensure that our own equipment operators are aware of current best practices.
We even have an AED/CPR-trained emergency response team comprising nine individuals who are equipped to handle any medical emergencies that may arise at work. Our team also understands the importance of recognizing our employees' comfort and safety levels; thus, we never require a DFT employee to perform a task or job that they are uncomfortable with or that makes them feel unsafe.  Furthermore, to maximize our safety knowledge, we work with Gallagher Bassett to provide outside training, education, and risk control assessments to help minimize equipment, personnel, and product losses.
The actions mentioned above are just some of the safety practices that DFT has integrated into our day-to-day operations. Below, we dive into some of our key strategies for boosting safety in the workplace.
Promoting Health and Safety in the Workplace
Creating a safer work environment requires a commitment from all levels of a company's workforce. We try to emphasize the importance of safe work practices among our employees by engaging them directly from the ground up. To accomplish this goal, we have created a company safety committee where representatives from our labor pool work with members of our management team to identify hazards and unsafe work practices, prevent accidents by removing any known obstacles, and evaluate the company's ongoing efforts to achieve and accident-and-injury-free workplace.
Our Personal Pledge

At DFT, we have demonstrated our commitment to safety by making a pledge to do the following:
Implement policies and procedures that help us achieve our goal of zero injuries/accidents
Provide appropriate personal safety equipment, physical safety boundaries, and mechanical safety equipment wherever appropriate
Use regular inspections to identify and address unsafe working conditions and comply with relevant OSHA standards
Train all employees on best practices and procedures for a safe work environment, including the proper care/use of all personal protective equipment (PPE)
Develop and enforce strict internal company health and safety rules and obligate all employees to follow them
Investigate all accidents – no matter how big or small – to discover the cause and find ways to prevent similar incidents from happening again.
Together, these actions will allow us to uphold our promise to protect our employees' health and safety every day.
Responsibility
Maintaining a safety and healthful workplace is a responsibility that falls on the shoulders of every individual tied to the company––from managers to supervisors, to all other employees.
Managers hold accountability for preventing workplace injuries and illnesses, but they also need to be open and receptive to all suggestions made by employees for creating a safer and healthier work environment. Management must also stay aware of and up-to-date on any potential safety or health hazards found in the DFT facility, as well as all policies found in the company's safety and health program.
Supervisors are responsible for overseeing and training workers in best practices regarding safe work. They also have the task of enforcing company rules in order to ensure that employees follow all required safety procedures.
Employees must comply with safety and health protective procedures, which includes immediately reporting hazards, unsafe work practices, and accidents to supervisors or a safety committee representative; wearing required PPE; and, participating in and supporting safety committee activities.
Learn More
At DFT, we believe a company is nothing without its employees. Therefore, we work hard every day to ensure the safety and wellbeing of our employees as a means of ensuring the wellbeing of our business. In all of our operations, we carefully consider how to protect our workers from any risk of job-related injury and illness, and we believe that this attention to safety translates in turn to a higher quality of product for our customers.
If you're interested in learning more about DFT's products or our safety procedures, please contact us.
Leave a Comment
In our most recently aired DFT® Inc. webinar, about Water Hammer, our experts discussed the definition of water hammer, the effects of hydraulic shock, and how to prevent water hammer using DFT Axial Flow Silent Check Valves.
If you missed this webinar, it is now available on demand on the DFT® website.
Our expert host also answered some of your most common questions regarding water hammer solutions, outlined in Q&A format below.
What is water hammer? How do I prevent it?
Water hammer is a hydraulic shock event that is caused by the sudden closure of quarter turn valves, or more commonly the sudden shut down of pumps. Pumps that are pushing water into vertical pipelines are almost always guaranteed to cause water hammer when they shutdown.
The best way to prevent water hammer is to install axial flow check valves (and only axial flow check valves) as close to the pump as space will allow. If you use a swing check in this application, the valve will only be closed by reversing flow. The reversing flow will slam the valve closed causing the water hammer.
Why does a cold water system need an expansion tank and water hammer arrestor?
The system you describe probably has vertical runs of piping in it somewhere. f those vertical runs are close to the pumps supplying those systems, and those pumps are protected with swing check or double door valves, the reversing flow that happens when the pump shuts down causes the water hammer. The cold water in the system plays no part other than to transmit the hydraulic shock wave of the water hammer event.
You mentioned that the second cause of water hammer is hot and cool water meeting. Is there a way of mitigating water hammer in this situation?
Mixing very hot water with a much smaller volume of cold water will cause the cold water to expand rapidly. This rapid expansion can cause shock waves to propagate through the liquid medium.
If you have a system that has both phases of water, steam and liquid, then you have the potential for water hammer to occur. You should make sure that there is no accumulation of water at any low points in the piping system. If there is, it would be a good idea to install drains and steam traps at those low points. Hot water can become steam when the pressure is low enough.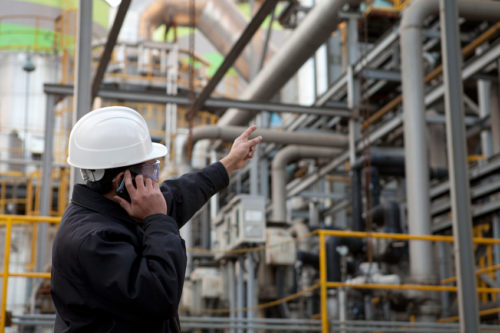 What is the pressure drop of this style check vs. a normal swing check?
Pressure drop through a valve has to be calculated knowing the media, the state of that media (gas or liquid) and the pressure/temperature properties of the media. The equations for determining pressure drop require a valve flow coefficient known as Cv. This is a characteristic of a valve that is determined by analytical testing or Computational Fluid Dynamics.
Typically, the Cv of a swing style valve is a higher value than the Cv of an axial flow check valve. This may not be a bad thing, in fact it may be desirable to have a check valve with a lower Cv to insure that the flow through the piping and thus through the valve is sufficient to fully open the valve and maintain a stable full open position.
What can be done for a process where a control valve needs to be shut down quickly?
Make sure you calculate the time constant for the specific installation for the control valve. Normally control valves are not fast acting valves, but quarter turn ball or butterfly valves do close quickly.
Make sure you make the valve closing time greater than the calculated time constant so that you decelerate the liquid slow enough to prevent creating the shock wave that would be associated with sudden stoppage.
Check Valve Solutions from DFT® Inc.
For more than 70 years, DFT® Inc. has helped customers diagnose check valve problems, provide solutions, and prevent failures. We specialize in providing the right in-line check valves to meet customers unique application requirements. From world-renowned DFT® Silent Check Valves to the innovative DFT HI-100® Control Valves, we have the products you need and a team of valve experts with decades of experience in a range of industries, including power generation, petroleum, construction, chemical processing, steam, water treatment and many more.
To learn more about our valves and how we can assist you, download our eBook, "Check Valve Installation Rules & Guidelines" or contact us directly.
To learn more about our valves and how we can assist you, download our eBook, "Check Valve Installation Rules & Guidelines" or contact us directly.